Docente-Investigador. Profesor Agregado.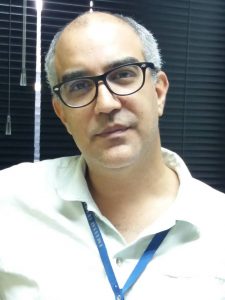 Computación-UCV.
Centro de Computación Paralela y Distribuida (Coordinador)
Av. Los Ilustres. Facultad de Ciencias, UCV. Los Chaguaramos. Caracas 1041.
Docteur en Informatique.
Université Pierre et Marie Curie. Paris VI. LIP6. 4 place Jussieu. 75005. París, Francia.
MsC. Ciencias de la Computación.
UCV. Venezuela.
Lic. Computación.
UCV. Venezuela.
E-Mail: andres.sanoja (at) ciens.ucv.ve
afsanoja (at) gmail.com
Telef: 0 212 605 16 58
Documents & Links
Publications
2020
Desarrollo de una Herramienta para la Evaluación de la Segmentación de Páginas Web Technical Report
Universidad Central de Venezuela Los Chaguaramos., 2020.
Manual-design of Blocks: Una Herramienta para Gestionar Segmentaciones Manuales de Páginas Web Journal Article
ReVeCom, 06 (01), pp. 019-027, 2020, ISSN: 2244-7040.
2018
Desarrollo de una Herramienta Interactiva Para la Construcción de un "Ground Truth"de Segmentaciones de Páginas Web Technical Report
2018.
2017
Migrating Web Archives from HTML4 to HTML5: A Block-Based Approach and Its Evaluation Book Chapter
Kirikova, Mārīte; ørvaag, Kjetil; Papadopoulos, George A (Ed.): pp. 375–393, Springer International Publishing, Cham, 2017, ISBN: 978-3-319-66917-5.
2015
Web page segmentation evaluation Inproceedings
Proceedings of the 30th Annual ACM Symposium on Applied Computing, pp. 753–760, ACM 2015.
Web Page Segmentation, Evaluation and Applications PhD Thesis
Université Pierre et Marie Curie-Paris VI, 2015.
2014
Block-o-Matic: A web page segmentation framework Inproceedings
International Conference onMultimedia Computing and Systems (ICMCS), pp. 595-600, Marrakesh, Moroco, 2014.
2013
Block-o-Matic: a Web Page Segmentation Tool and its Evaluation Miscellaneous
29`eme journées ''Base de données avancées'', BDA'13, 2013, (Poster).
2012
Yet Another Hybrid Segmentation Tool Miscellaneous
iPRES 2012 -- 9 th International Conference on Preservation of Digital Objects, 2012, (Poster).
2010
Lineamientos para la Construcción de un Archivo Histórico de la Información Digital producida en Venezuela Inproceedings
CLCAR 2010. Conferencia Latino Americana de Computación de Alto Rendimiento, 2010.
Utilización de Métricas de Software para Apoyar la Selección de Frameworks Web para el Sistema de Gestión de Datos Académicos de la Facultad de Ciencias UCV Journal Article
SABER. Revista Multidisciplinaria del Consejo de Investigación de la Universidad de Oriente, 22 (2), pp. 185–192, 2010.
2008
Overview of extratos: yet another service oriented information extraction system for the web Proceeding
Universidad de Magallanes, 2008, ISBN: 978-956-319-507-1.
2006
Gobierno electrónico en Venezuela Technical Report
2006.
Gobierno-e en América Latina Technical Report
2006.
Gobierno Electrónico en el Sureste Asiático Technical Report
2006.
I also enjoy music. If you feel like it please visit my Youtube channel.